Fiction
Converstions with the Fat Girl
Hide and Snoop: An Odelia Grey Mystery
The No. 1 Ladies' Detective Agency
The High Price of a Good Man: A Novel
---
Spirituality
All the Joy You Can Stand: 101 Sacred Power Principles for Making Joy Real in Your Life
Simple Abundance: A Daybook of Comfort and Joy
The Purpose of Your Life: Finding Your Place in the World Using Synchronicity, Intuition, and Uncommon Sense
Body Image & Self - Esteem
Plus Size Confidence (The Plus Size Girls Guide to...)
The Plus Size Evening Gowns Bible: How to choose the right plus size dress for a wedding, cocktail evening, formal event or family party.
Life Is Not a Dress Size: Rita Farro's Guide to Attitude, Style, and a New You
Well Rounded: Eight Simple Steps for Changing Your Life... Not Your Size
Learning Curves: Living Your Life in Full and with Style
Big Big Love, Revised: A Sex and Relationships Guide for People of Size (and Those Who Love Them)
FAT!SO?: Because You Don't Have to Apologize for Your Size
The Forbidden Body: Why Being Fat Is Not A Sin
The Mass Market Woman: Defining Yourself as a Person in a World That Defines You By Your Appearance
Self-Esteem Comes in All Sizes: How to Be Happy and Healthy At Your Natural Weight
The True Measure of a Woman: You Are More Than What You See
Bountiful Women: Large Women's Secrets for Living the Life They Desire
---
Fitness and Exercise
Start! Walking At Home with Leslie Sansone: Beginner/Intermediate - 1 & 2 Mile Walk
Yoga: Just My Size With Megan Garcia
---
Plus Size Celebrities
Wake Up, I'm Fat! by Camryn Manheim
Delta Style : Eve Wasn't a Size 6 and Neither Am I by Delta Burke
True Beauty: Positive Attitudes and Practical Tips from the World's Leading Plus-Size Model by Emme
Skinny Women Are Evil : Notes of a Big Girl in a Small-Minded World by Mo'nique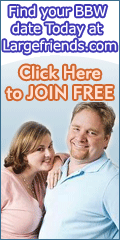 LargeFriends.com - the best dating site for plus-sized singles!

---
Other Books of Interest
Big Girl Knits: 25 Big, Bold Projects Shaped for Real Women with Real Curves
Plus Size Crochet: Fashions That Fit & Flatter
The Big Girls' Guide to Life: A Plus-Sized Jaunt Through a Body-Obsessed World

The Voluptuous Vegan: More Than 200 Sinfully Delicious Recipes for Meatless, Eggless, and Dairy-Free Meals
Sewing for Plus Sizes: Design, Fit, and Construction for Ample Apparel
Real Gorgeous: The Truth About Body and Beauty
One Size Fits All:And Other Fables
Women En Large : Images of Fat Nudes
Figure It Out! The Real Woman's Guide to Great Style
---
Plus Size Pregnancy
Big, Beautiful, and Pregnant: Expert Advice and Comforting Wisdom for the Expecting Plus-Size Woman
Mayo Clinic Guide to a Healthy Pregnancy: From Doctors Who Are Parents, Too!